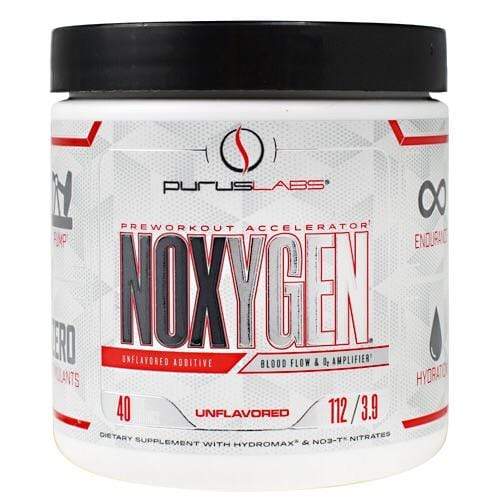 Purus Labs Noxygen, 40 Servings
---
Preworkout Accelerator. Stimulant-Free Blood Flow And Oxygen Amplifier. No Creatine Or Dye. Mixes Instantly. 1 servings increases muscle volume instantly. Featuring Hydromax soluble Glycerol & Nitratene. Oxygen sparing. Increase blood delivery. Enhance muscle volume. Stim-free additive. Noxygen is a novel stimulant-free preworkout adjunct designed to create an oxygen-sparing environment through enhancing vasodilation and blood flow with Nitratene while simultaneously volumizing muscle cells and increasing lean body mass (LBM) with HydroMax water-soluble glycerine. Yet another industry first for Purus Labs, Noxygen is perfect for both strength and endurance athletes.
Add one to two servings to your preworkout beverage 15-30 minutes before training for maximum blood and oxygen delivery. For endurance training, mix with your intraworkout or hydration beverage and consume throughout training.
*These statements have not been evaluated by the FDA. This product is not intended to diagnose, treat, cure, or prevent disease.
We offer free shipping within the USA
Most items are shipped within one business day. Due to product availability, products could take longer to ship.
Orders typically arrive within 3-5 business days.
All orders are provided with tracking numbers.
During holiday seasons, please expect delays in delivery.